Rising Senior Virtual Backpack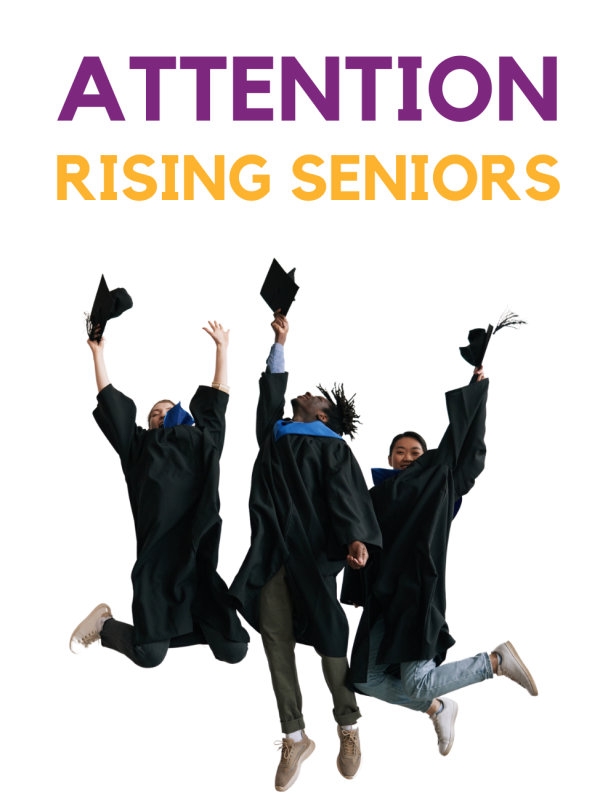 Preparation for Senior Year
College Options
Use the Common App as a tool to explore your college's options. They have a pretty cool tool that will allow you to filter your options by location, campus setting, financial aid and much more!
Things to keep in mind:
Your GPA (Grade Point Average)
Your SAT Score (if applicable; you will have the opportunity to test/retest senior year)
Distance from your home (Commuting or staying on campus)
What type of degree do you want? (2 year AA/AS or 4 year BA/BS)
Essay Ideas for College Applications
Research prompts and sample essays from previous years to get an idea of the types of subjects and themes colleges request.
Do more than just think about your answers to these questions. Actually write some ideas down so you have something to reference when it's time to write. You can even write an outline or first draft for some essay topics.
A stellar application essay is one of the ways you can make your application stand out, so give yourself ample time to produce the best essay you can.
Please remember that our personal statement is not a letter of sympathy, but more of sharing why you would be the best candidate for the institution.
Practice Tests
If you haven't taken the SAT or ACT exam — or you aren't happy with your previous scores — use the summer to make sure you're sufficiently prepared.
Click Here to take practice test over the summer. A little extra work can go a long way when it come
Improve your Resume
One of the key elements in preparing a college application is presenting yourself as a well-rounded student. Are you lacking in certain areas? Summer is a great time to fill in those gaps by Volunteering, Working Part-Time Job or taking on an Internship.
Explore Colleges Virtually
Nothing is more valuable in getting a sense of a school than a campus visit. If you're interested in participating in a virtual tour, check the college websites to see what tours they offer… and Here are 10 tips to get the most out of your college visits!
Important Documents
Student and Parent Social Security Cards
Parent(s) tax returns
Parent(s) 2020 W-2
Proof of Citizenship
Alien Registration, Permanent Resident Card, Green Card - if applicable
Letter from parent/guardian with the household size
Letter stating what the family receives from Public Assistance (if applicable)
If parents are married, remarried, divorced, or separated (please provide the month and year of that event)